Espresso Cream Pie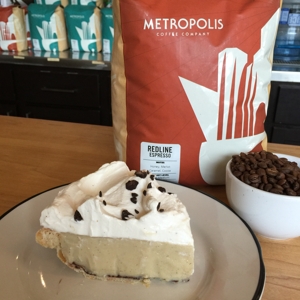 First, we brush the bottom of a pie shell with melted bittersweet chocolate, then we spoon in espresso pastry cream and top it with lightly sweetened espresso whipped cream and a scattering of chocolate covered espresso beans.

Filling ingredients:Milk, heavy cream, espresso beans, gelatin, sugar, cornstarch, eggs, butter, vanilla paste, lemon juice, chocolate.
Crust ingredients: Flour, sugar, salt, butter, water, red wine vinegar
Allergens: Eggs, milk, cream, gelatin.
Care: This pie must be refrigerated.